Last updated - 2018. June
In this article you will find:
7 tools for email preview testing
14 tools to help you check your sender and SPAM score
5 tools for email verification
5 tools for subject line testing
It is not enough to just write a copy and create an email template. Sending emails without proper testing can completely ruin your campaign and even damage your subscription base. An untested email can lead to:
high unsubscribe rate: nobody wants to continue receiving clumsy and awkward content in their mailboxes;
credibility damage: you don't want people to think that you are unprofessional enough to send a weird-looking and therefore brand damaging email.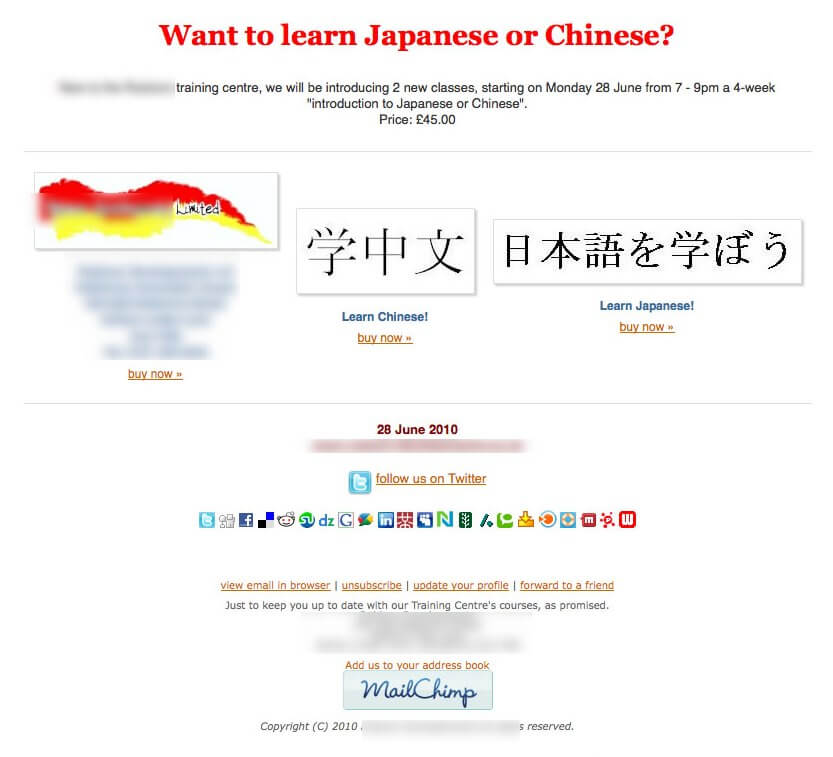 Source: MailChimp
Apart from email design problems your subscribers can experience, there is deliverability – another issue that can influence your email marketing in negative way.
You might make your design impeccable,  but due to deliverability issues your email will simply not land in your recipient's mailbox, so all of your marketing attempts will be in vain. Thus you must assess your emails in terms of your sender's reputation and SPAM score.
Here is our list of tools that will help you to test your email campaign and fix both email design and deliverability issues.
Email Testing and Preview Tools
Nowadays a lot of ESPs offer email preview features, however, if you don't use ESP there are still a number of tools that can help you to get a preview of your email in different email clients.
PutsMail has been acquired by Litmus a couple of years ago, but it still offers a free email sender tool, which you can use to send HTML emails to multiple email addresses.
You still need to register various email accounts to do the tests, but at least they provide a properly configured email sending service.
Inbox Inspector is the best free email preview tool on the market. It's operated by GetResponse and allows you to preview your emails in 18 different email clients totally for free.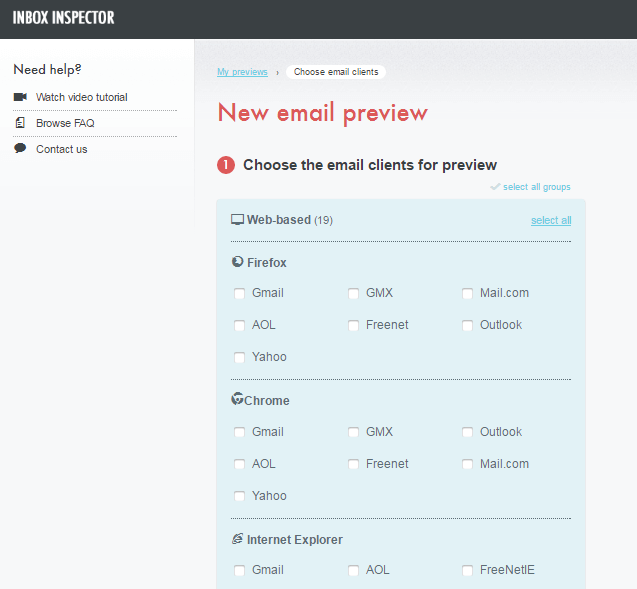 Obviously their goal with this service is to get you on board as a GetResponse customer, where they offer more detailed email preview options.
Mailtrap is a fake SMTP server to test and view emails. It has a free subscription plan with a limited number of emails. It can also analyze emails by SPAM and blacklists.
EmailReach is a paid tool with a one day free trial period that allows you to check how your email looks in major email clients and on different mobile devices.
Email on Acid also has a quite powerful preview tool, where you can even check out your email templates in some really exotic email clients like Yandex.ru or Orange.fr.
Their trial period is limited to 7 days.
6. Litmus (Free trial)
Litmus is the biggest name in email rendering tests. The upside of it is that they have a really good service, but offer a very short – 3 day – free trial only. This short period of time might be helpful too or you can subscribe to their paid packages.
Accessible-email.org promotes email marketing accessibility and usability. Their first project is an email accessibility evaluation tool for email marketing professionals and industry developers. It gives an overview of their current level of accessibility and possible improvements.
For years the email marketing industry has never really made a point of accessibility, but many email recipients do care and need email that renders well and for instance can be used even with a disability or on devices such screen readers and smartwatches.
Deliverability Checking Tools
Sender Reputation Checking Tools
In principle, you can judge how your emails are received by the audience by open and click through rate (engagement) and by spam complaints (reputation). However, you can also use special resources that help you to check your sender reputation.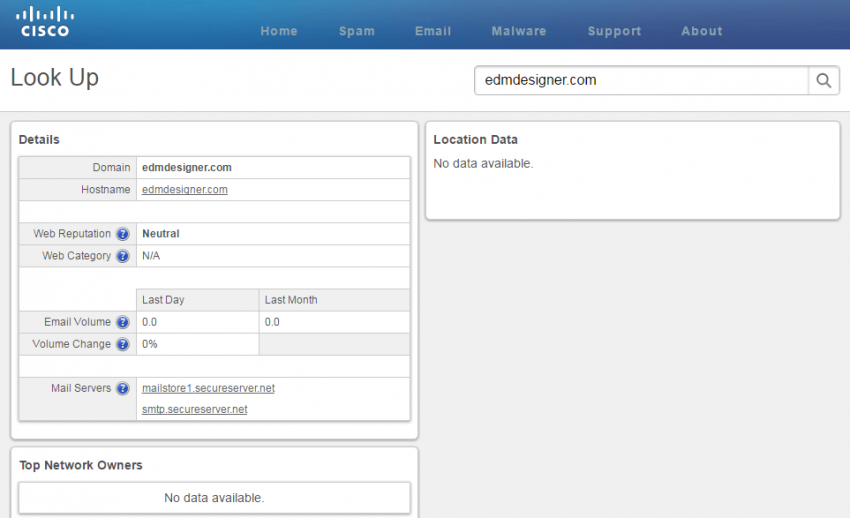 Senderbase is a product of Cisco and checks your reputation by ranking you as Good, Neutral, or Poor.
Good means there is little or no threat activity.
Neutral means your IP address or domain is within acceptable parameters, but may still be filtered or blocked.
Poor means there is a problematic level of threat activity and you are likely to be filtered or blocked.
Sender Score measures your reputation on a scale from 0 to 100. The higher your score, the better your reputation and the higher your email deliverability rate.
Numbers are calculated on a rolling 30-day average and illustrate where your IP address (domain) ranks against other IP addresses (domains).
At ReputationAuthority you can look up your IP address or domain, receive a reputation score from 0-100, and get the percentage of emails that were good versus bad.
BarracudaCentral is a tool for IP and domain reputation lookup via their Barracuda Reputation System; a real-time database of spammers' IP addresses senders with good email practices.
TrustedSource from McAfee is a tool to check how your site is categorized within various versions of the SmartFilter Internet Database or the Webwasher URL Filter Database. It provides information on both your domain's email and web reputations as well as affiliations, domain name system (DNS), and mail server information. It also provides details on the history, activation, and associations of your domain.
Spam Score Checking Tools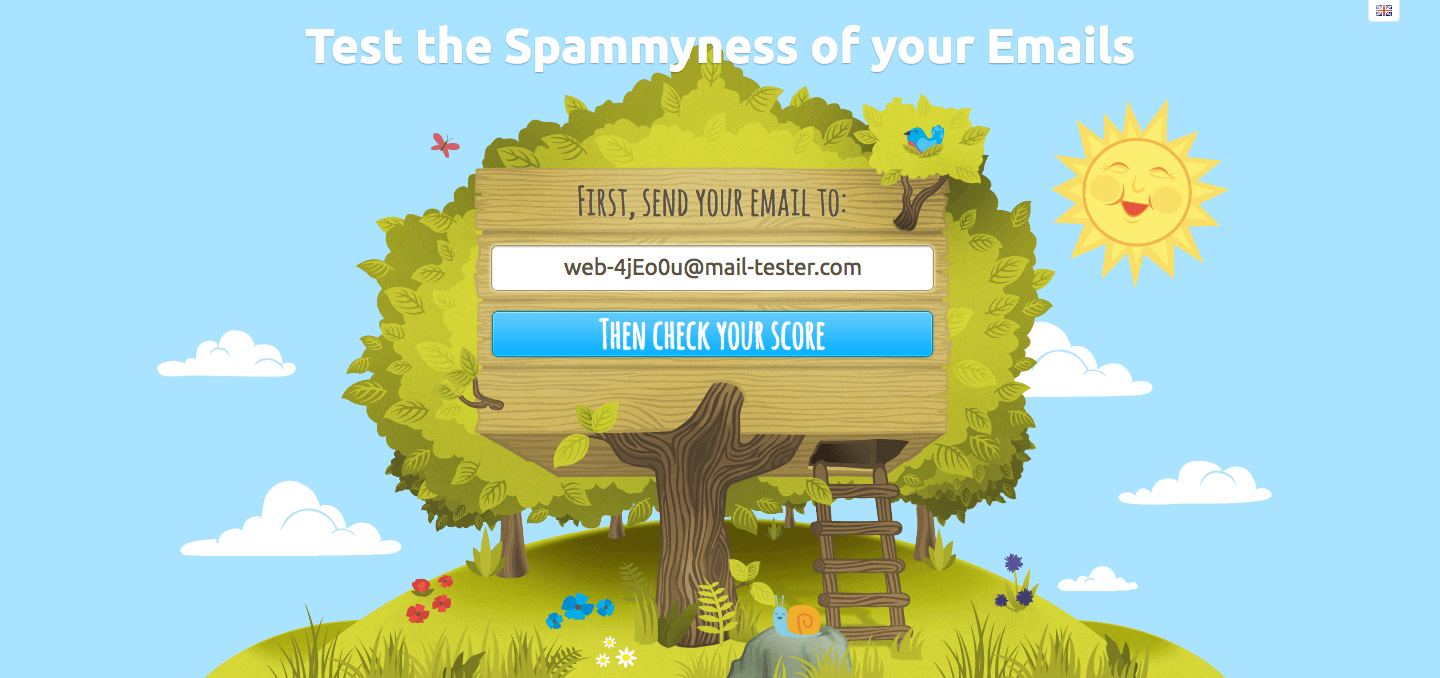 Mail Tester is a free tool to check your spam score. The system calculates your spam score based on whether you are blacklisted or not, your SPF record, DKIM and keywords in your letter.
Email on Acid has a SPAM test feature that checks emails against spam filters and blacklist services. However, this feature is available when you subscribe for the whole platform.
Litmus also has a SPAM test feature inside their email marketing suit that assesses your email based on several parameters such as reputation, sender verification, and major SPAM filters.
Postmark is a free tool that assesses the content of your emails and gives it a score. They even have a lightweight JSON API which you can integrate to your own platform for SPAM score checking.
5. Some other SPAM checking tools
Here are some other free SPAM checking tools that are based on SpamAssassin project:
Deliverability Suites
SendForensics is an email deliverability suite that thoroughly assesses the deliverability of your email campaign by considering your sender score, content of email, loss to SPAM filters, and other parameters.
EmailReach offers a wide range of features. It can check if you are blacklisted or not, verify email addresses in your subscription list, and even test how your email will be delivered in different kinds of inboxes. Plus, it has a content checker that assesses how SPAM filters will handle your email content. It is a SaaS tool with a free trial period.
Email Verification Tools
Sometimes you need to check if your email address is valid. There are a number of tools that can help you with that.
Plus here's a great resources that compares the top 10 email verification tools online.
Email Subject Line Checking Tools
Here is a mixed bag of tools for subject line checking (not real testing).
SubjectLine evaluates your subject lines based on 3 billion+ email messages that have been sent and tracked via its partners and clients. It shows you what will generate higher response rates and improved inbox deliverability. Of course, there is no guarantee that the test results will lead to higher open and click through rates. However, you will definitely get an idea or two about what could be wrong with your subject lines.
Touchstone creates a virtual simulation of your subscription base (of course, you have to upload it there first) and then it predicts open, bounce, and click through rates for the subject line you test. It claims that the margin of error is 1-2%
This tool will help you to see how certain keywords in subject lines perform in different industries. Again, the result that the tool provides are not a panacea, they are just a guidance.

4. TestSubject by Zurb
With Zurb you can test how your subject lines appear on different mobile devices. This might be useful if this feature is not included in your regular email client preview mode.
There is nothing sophisticated in this tester, however, it is slightly outdated nowadays. Previously, ISPs used content and subject lines as the criteria for determining if something is spam or not. Now they are more advanced and use other criteria to determine reputation of the sender: IP reputation and user based actions like people moving email from spam/promotions folder to inbox.
6. Easy-to-use Subject line tester by Omnisend
This subject line tester is easy-to-use and it analyzes the length, wording, spam score readability (Scannability) of your subject line along with a nice, Gmail-like preview. It's worth using it even if they ask for your email address!
If you know of an email testing tool that we missed from this collection, please add it as a comment!