The more clicks you get the more people find it useful what you send them. Getting them to open an email is another matter – if they open your mail they mostly do that because your subject line was good, your name did not rang the SPAM-bell and maybe you sent them useful and interesting content earlier. But getting them to click on your links is another matter entirely.
Here are some of the basic reasons why you might miss the chance to convert your email recipients into buyers / leads.
Master your email design / editor skills
First, if you are not an expert in using your email editor you may have built an email that is hard to read or even display – because the design is not responsive or graphics are simply broken inside. That is a huge problem, but at least it is an obvious one – you will be able to identify the matter and work to repair your mistakes.
There are various email editors in the market which allow users to create outdated, not responsive, or even faulty HTML outputs, so be careful and always test your emails before sending! In EDMdesigner we don't allow users to modify the HTML code of the actual email template, so we can make sure that the output will be perfect on all email clients (except for the evil Gmail App).
Make your links noticable
Another issue can be that your links are hard to find. If you include a click-through text that will rarely draw attention – you will have to design the text in a way that it stands out, and of course you have to find something more exciting than "click here" as your call-to-action.
This actually has a very good reason, and it is not that "click here" is boring. This is vague wording that doesn't tell a viewer anything about where they are going to be taken after they click. If you write something like "Take me to the product page" or "Read about this in detail…" that will get you more clicks. Because you give more accurate information about where that link leads.
Notice that those are longer expressions – this is not a bad thing. If you give them a nice color, font, use your white spaces to make them stand out, they will get noticed, especially if you use these long expressions as a button. Usually we see that buttons convert better than simple text links, but in some "plain" designs, text links work better. It depends on your design and audience, so you can run a test for yourself to understand what do they like better.
Include social sharing
It may still seem a bit out of place to include social sharing options in an email, but let us assure you: it is not. There are already some email coders who experimented with adding live Twitter feeds to their email designs  – you can and should include at least a sharing button.
According to Econsultancy an email that includes a social sharing option will get 30% more clicks than one that doesn't. With 3 or more options this goes up to 55% more clicks.
Should you include the recipients' name?
Yes, there is a question mark, and with a good reason. We could show you case studies proving that adding a name in the subject line not just improved open rates, but even increased CTR greatly (25.31% to be exact, data by MarketingSherpa).
Other studies say that this will make your email look like spam and people won't even open it. And in the age of privacy concerns this is a reasonable argument. You can trigger a negative emotional response by calling someone by their first name, especially when you're trying to sell them something through email.
It is clear that you have to test this method. You may experience increasing opens but fewer clicks. Or the number of people unsubscribing can multiply while from those who stay you get more conversions. The results are quite unpredictable, but it's definitely worth the time to play around with it.
Don't just include the name. Segment and personalize the complete subject line. You may not be able to personalize it for everyone, but writing a different subject line for all your personas might just do the trick.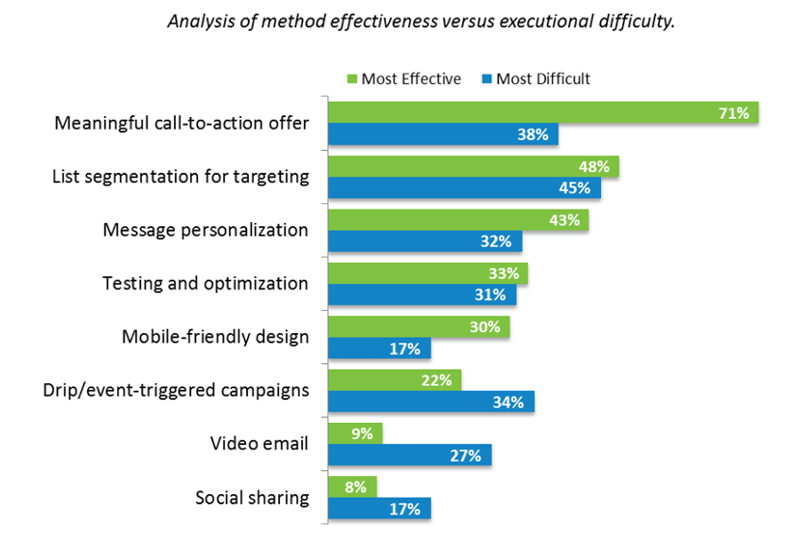 Image source: Business2Community
Don't give too many choices
Feel free to include links and sharing opportunities in your mail – as long as you don't overcrowd them you should be fine. But giving your recipients obvious directions to what you want them to do is a surefire way to really get them do it.
Several case studies have confirmed that if you include less options you are more likely to get clicks on what remains. For example you don't have to include all your blog posts in your newsletter or all products in a sales letter. If you are segmenting your list **chose the one that is the most likely to get the attention **of your buyer personas. If your website is good enough, you only need them to click on that one link.
In some cases you can easily triple your CTA this way.
Key Takeaways
Make sure that your links are not only great but that they can be found easily.
Make it simple and personal.
Includes social sharing.
Too many offers can scare off recipients, but one great offer will be successful for many of them.
Don't overcomplicate your email: what you do in the email editor should not be too complex. It is your data that should be detailed, accurate and up-to-date.